Intimate DVD Review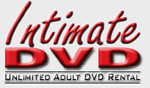 DUE TO RECENT BUSINESS DECISIONS BY INTIMATE DVD, WE NO LONGER RECOMMEND THEIR SERVICES TO OUR READERS. PLEASE CHECK OUT ONE OF THE MANY HIGH QUALITY SERVICES LISTED ON OUR HOMEPAGE.
Intimate DVD is another in a long line of porn dvd rental sites that offer free shipping and unlimited rentals over the course of the month. Their site claims that they are the "ultimate source for the hottest adult movies" by carrying thousands of the top xxx titles on the market.
You'll quickly find that they offer many of the same features touted by the big names. They provide a good selection of adult titles in a variety of genres. We found some unique categories that aren't found on other sites, although they may only carry a handful of DVDs for it. Still, we found that most of the DVDs were in stock and avaialable for rent, which is sometimes a problem you run into with other porn DVD rental companies.

*
= 10 days free trial plan!
As for the total number of DVDs, it didn't seem like they had as many as some of the others. They do have a good combination of new porn and classics, and have continued to add new videos to their arsenal in the past few months. Intimate DVD offers a free 10-day trial for new members. However, this trial can only be used on their two smallest packages which allow you to rent 1 or 2 movies at a time. Many of their competitors use the free trial on the 3 DVD checkout option which we hope will change in due time. They do offer a 10% military discount for the men and women in uniform.
Overall, we're happy to see that IntimateDVD has grown into one of the leaders in the space. They've made signifigant strides since our first review of them (which got them 2 stars), and have seen not only an increase in DVDs available, but also in the overall appearance and usability of the site. In fact, they are on the forefront now of usability by having an very slick mouseover feature that lets you view the details of a movie without actually having to click on through to the page. They also have listed all the major AVN award winning DVDs for those not up-to-date on what's hot in the indusry, as well as offer some other nice features like pornstar bios and much more detailed descriptions of the movies.
In any case, you can't go wrong with a 10-day free trial, so give Intimate DVD a shot. If you're active military, it's hard to pass up a nice discount as well. We'll be keeping an eye on Intimate DVD in the future as they seem poised to grow into one of the leaders in the space.
Trial Offer Terms: You get a 10 day free trial with their Newbie (1 DVD checked out) and Apprentice (2 DVDs checked out) packages.
Monthly Fees: Newbie ($9.99/month) – 1 DVDs at one time (10 day free trial). Apprentice ($17.99/month) – 2 DVDs at one time (10 day free trial). Amateur ($22.99/month) – 3 DVDs at one time. Professional ($27.99) – 4 DVDs at one time. Expert ($34.99) – 6 DVDs at one time. Extreme ($43.99) – 8 DVDs at one time.
Payments Accepted: Visa, MasterCard, American Express, and Discover. Shows up as CMB Inc. on your credit card statement.
Shipping Location(s): Unknown
Shipping Restrictions: Alabama and Tennessee. Also the following zip codes:FL 323xx, 325xx.
IL 62220, 62221, 62222, 62223, 62226. MS 386xx-397xx. MT 591xx. OH 450xx-459xx. OK 731xx. NC 282xx. UT 840xx-841xx, 843xx-847xx. VA 236xx
Customer Service Contact Information: customerservice@intimatedvd.com
Overall Rating:

- Go To Intimate DVD
Copyright 2020, AdultRentalGuide.com. All Rights Reserved.